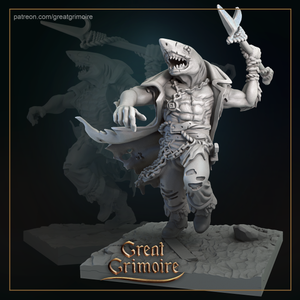 Pirate Captain | Shark-head

Every horde needs a leader. A true warrior, strong and vicious, pitiless for the victims, who will take them into the battle in the name of The Great One.
Who would've known that this role has been destined for a simple fisherman once list at sea and nearly devoured by bloodthirsty shark.
Awoken at this moment, he is reborn as a massive brute armed with a toothy maw and covered in armor of thick leather skin. Led by his predatory instincts, able to sniff a victim's blood from afar, he is now the perfect servant to Scylla and the ultimate chieftain to those who were called to fight at his side! 
3D PRINTED RESIN MINIATURES
All miniatures are printed in Elegoo Standard Grey Resin on an Elegoo Mars 2 Mono Printer with a 0.02 layer height.
This provides a highly detailed paintable resin print
Models are all 32mm scale unless stated otherwise-if you aren't sure please ask
We are currently taking orders for these beautiful miniatures, each one 3D printed to order. Pictures are for reference only actual models will have most supports removed but will still require some clean up and assembly
Current order waiting time for one miniature is:  please allow up to 5 days
Commission Painted miniatures available 
Please contact Bristol Independent Gaming for more information or for multiple prints.