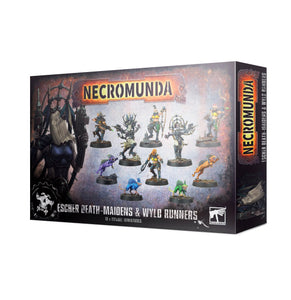 ESCHER DEATH MAIDENS & WYLD RUNNERS
Expand your Escher gang with these six fighters and their cute but deadly pets. Wyld Runners may be armed with low-tech weaponry, in the form of whips and bows, but are no less lethal for it. Death Maidens come armed with a needle pistol and venom claw, allowing them to kill their enemies with the finest poisons from the House of Blades.

This 138-part plastic kit makes:
– 2x Death Maidens with needle pistols and venom claws
– 4x Wyld Runners, two with wyld bows and two with whips
– 4x Phelynx

This kit is a treat for customisers and converters. Each Phelynx can be kitted out with a choice of interchangeable heads, while the Death Maidens and Wyld Runners feature the same arm and head fittings as the Escher Gang kit, allowing you to mix and match them for greater variety!

It is supplied with 10 Necromunda 25mm round bases.

Rules for using these models in games of Necromunda can be found in House of Blades.
Make sure you pick up glue and paints, we recommend Contacta professional plastic glue