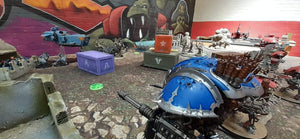 Annual Gaming Subscription
Subscriptions run for one full Year from the 1st of the month that Subscription is purchased. 
Once you have subscribed you will be issued with a unique code for that year which will give you your chosen discount level.
This will cost you £200 a year
You will get unlimited gaming - when you book to play a game a at BIG enter your unique discount code. Free game is per person and can only be used by the discount holder
You will also get 15% off all purchases that year.
 Code may take up to 48hours to be issued