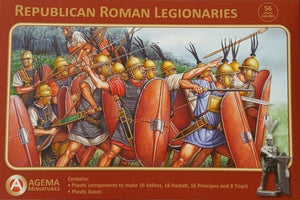 AGM01 - REPUBLICAN ROMAN LEGION
This box contains 56 highly detailed, multi-pose plastic Republican Roman legionaries and light infantry in a mix of armour and weaponry. 28mm sized.
These figure represent Roman legionaries and light infantry ('Velites'), of the mid Republic Era of Roman expansion and dominion (roughly 350 BC through until approximately 168 BC). They are suitable for the numerous wars fought during this period against the Gauls of Northern Italy, the Etruscans in the North and the Samnites in the South of Italy, the short but bloody war against King Pyrrhos of Epirus, the Punic Wars against Carthage, the Macedonian / Seleucid Wars against King Phillip V, his son King Perseus, and the Seleucid Monarch Antiochus The Great, as well as the wars in Iberia and the conquests of Sicily and Sardinia.
The set contains 16 Hastati (un-armoured or wearing pectoral armour), 16 Principes in Subermalis (a type of padded material armour) and also mail armour, as well as 8 Triarii in mail in their famous kneeling position armed with spears, ready to cover any retreat of their comrades. Also included are 16 un-armoured infantry which can be made as Velites or used as additional, un-armoured Hastati. In addition, they could be utilised as the somewhat mysterious Rorarii, who seem to have supported the Triarii in the 3rd line, but wore no armour.
Join in with Bristol's Historical gaming community at Bristol Independent Gaming, find new opponents through our dedicated Facebook group LINK