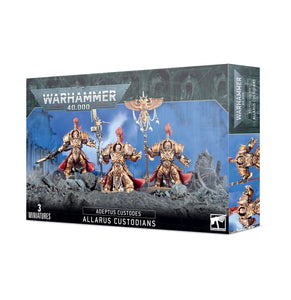 Allarus Custodians
This multi-part plastic kit contains the components necessary to assemble a 3-model squad of Allarus Custodians. Each is clad in spectacular, expertly-crafted Allarus Terminator armour – this is covered in finely sculpted sigils of the Emperor, with Imperial eagles, lightning bolts, gemstones and filigree covering every surface. They are armed as standard with with castellan axe and wrist-mounted balistus grenade launcher – each model can replace the axe with a guardian spear, as 3 are included. 4 misericordia daggers are also in the kit, 1 of which is a special variant for a Shield-Captain. 3 helmets and 3 bare heads are included, with 4 helmet plumes. 

You have the option to assemble 1 model as a Shield-Captain, using the specific shoulder pads, thigh plates, helmet plume and misericordia supplied, and 1 model can be assembled as a Vexilus Praetor, using the ornate vexilla in the kit. 

This kit comes as 73 components, and is supplied with 3 Citadel 40mm Round bases.
Join the Bristol Warhammer 40,000 community every Thursday evening at Bristol Independent Gaming, meet new friends, find opponents and play Warhammer 40k on one of our fantastic gaming tables!
Check out the chat on Facebook LINK
Not suitable for children under 36 months, contains small parts and pointy bits.