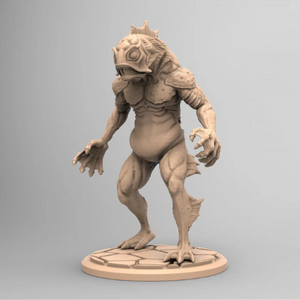 Innsmouth Investigators
Deep One 1- Call of Cthulhu
There is something strange happening in Innsmouth, will your team of intrepid investigators solve the mystery, or will they find something more than they bargained for.

These 3D printed Resin miniatures will help you bring your games to life or add a spooky detail to any diorama.
Adeavy Creations has produce characters inspired by the Innsmouth theme, the iconic village created by H. P. Lovecraft, we can print these high quality miniatures for you to help bring your RPG to life, or as beautiful models to add to any diorama or Cthulhu collection.
All the miniatures are scaled 36mm with high detail, so you can print it in any scale you want.


3D PRINTED RESIN MINIATURES

All miniatures are printed in Elegoo Standard Grey Resin on an Elegoo Mars 2 Mono Printer with a 0.02 layer height.

This provides a highly detailed paintable resin print

We are currently taking orders for these beautiful miniatures, each one 3D printed to order. Pictures are for reference only actual models will have most supports removed but will still require some clean up and assembly

Current order waiting time for one miniature is: please allow up to 5 days


Commission Painted miniatures available

Please contact Bristol Independent Gaming for more information or for multiple prints