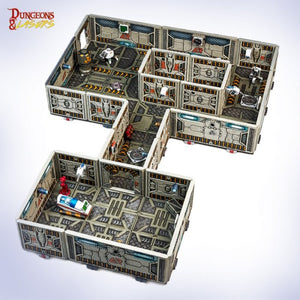 DNL0001 - Sci-Fi Starter Set
"Dungeons and Lasers is an innovative plastic tabletop terrain system based on tiles, scaled for any game with 28-32mm miniatures. Available in both sci-fi and fantasy styles, fully modular design allows you to mix different sets and themes any way you please. Made of hard, durable and richly detailed plastic D&L terrains are designed to be as easy to assemble and rebuild as possible, with no glue required. Stackable architecture and a vast amount of customization bits allow for a unique setting every time you play. Dungeons & Lasers is a constantly expanding range of products that offer fantastic value for money and endless possibilities limited only by imagination."
Hello Adventurer!

Welcome to the world of Dungeons & Lasers, a complete universe of tabletop terrain! This set includes everything you need to assemble a multi-room sci-fi environment on your gaming table.

You want to explore top-secret labs, military starbase, or abandoned space shuttle? It's all possible with this multi-configurable set. You can mix and match various sets, as everything is compatible with everything in Dungeons & Lasers.

Buckle up! You are going on a journey at the edge of the galaxy!
Box Contains:
6x Long Floor
9x Floor
8x Long wall
15x Wall
4x Doorway
40x floor clips
44x wall clips
64x Pins
26x vertical clips
64x customization bits
All models come unpainted and unassembled.