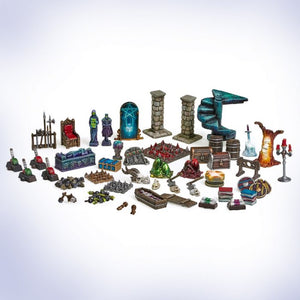 DNL0027 - Fantasy Customization Bits
"Dungeons and Lasers is an innovative plastic tabletop terrain system based on tiles, scaled for any game with 28-32mm miniatures. Available in both sci-fi and fantasy styles, fully modular design allows you to mix different sets and themes any way you please. Made of hard, durable and richly detailed plastic D&L terrains are designed to be as easy to assemble and rebuild as possible, with no glue required. Stackable architecture and a vast amount of customization bits allow for a unique setting every time you play. Dungeons & Lasers is a constantly expanding range of products that offer fantastic value for money and endless possibilities limited only by imagination."


Decoring session sceneries is not an easy task for Dungeon Masters. Look around and take what you need. Do you want to reward the party? Grab some chests. Or maybe you were planning a deathly riddle with switches and spikes? We got you covered. Spooky statues emanating with dark magic? No problem. Environment interactions and unforgettable experience guaranteed. We do not take any responsibility for inappropriate usage by unaware players. Keep away from bards.
Box Contains:
All models come unpainted and unassembled.