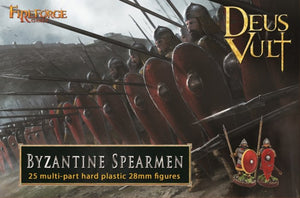 Byzantine Spearmen
This box enables you to build up to 25 Byzantine Skoutatoi in heavy armour. You'll be able to build up to 25 Spearmen, and/or up to 10 armed with sword. All the figures in the box can be assembled with two different types of shields, building early or later period byzantines. 
Figures are supplied unpainted and require a little assembly.
The box contains 25 plastic bases, 20x20mm.
= 6 bases