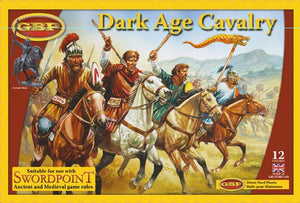 GBP16 - Dark Age Cavalry
This box contains all the parts to assemble 12 plastic cavalrymen plus bases suitable for the Swordpoint gaming system.
They can be used to represent any unarmoured cavalry of the period from around 300AD to approx 800AD including Ostrogoths, Visigoths, Vandals, Franks, Germans, Heruls, Lombards and loads more.
Parts from this box are compatible with many parts from all our other box sets so you can do many, many conversions. For example, use some Roman helmets from Late Roman Infantry box to make Roman light cavalry.
Sculpted by Bob Naismith.
Supplied unassembled and unpainted. Basic modelling skills required to assemble.
Join in with Bristol's Historical gaming community at Bristol Independent Gaming, find new opponents through our dedicated Facebook group 
LINK