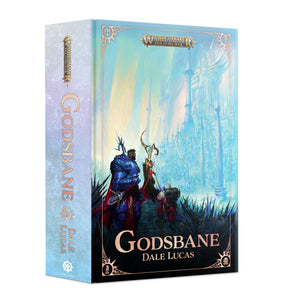 GODSBANE
A Warhammer Age of Sigmar novel

The Mortal Realms are rich with history, ancient sagas, and mythical beings. Often, the events and objects of the past persist as stories, embellished for so long their veracity cannot be verified. The loreseekers of the Lumineth Realm-lords dig into these ancient stories, and sometimes discover them to hold a certain amount of truth...

READ IT BECAUSE

Settler's Gain in Hysh is a fascinating place, and this story gives you insight into the complicated social networks of the Mortal Realms, as well as simple ways large-scale wars often begin.

THE STORY

In eldritch days long lost to memory, those desperate to escape the cruelties of the gods forged a terrible weapon. Capable of granting the humblest mortal the power to stand against the might of the divine, it came to be known as Godsbane.

For Thelana Evenfall, Lumineth loreseeker and tutor at the Lyceum Fundamental in the city of Settler's Gain, the weapon is a footnote – the shadow of a rumour buried under mountains of long-forgotten lore. But when whispers of its whereabouts resurface, the vying factions within Hysh emerge to claim its power. From trusted allies to insidious cults, Thelana must navigate a treacherous landscape of clashing armies, political machinations and betrayals within betrayals, all in a desperate effort to defend the powerless from the all-powerful and to ask the unanswerable question:

Who is worthy to wield Godsbane?

Written by Dale Lucas.
(Hard Back)