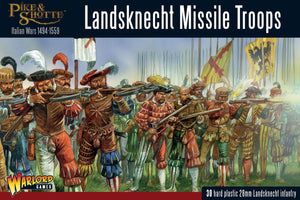 Pike & Shotte Italian Wars 1494-1559-Landsknecht Missile Troops
The late 15th and early 16th centuries in Europe were defined by near-constant warfare. National 'standing armies' were unheard of and the ambitions of empires were reliant on the mercenaries they could afford to hire.
Landsknechts were instigated by the Holy Roman Emperor, Maximillian I, as a reaction to the Swiss mercenary pikemen that had dominated battlefields for decades before the Italian Wars (1494-1559).
They would be found in most armies in Western Europe of the time, even appearing in the British Isles in the service of Henry VIII. Clashes between rival Landsknecht regiments were particularly bloody, becoming known as 'Bad War'.
The most striking aspect of a Landsknecht force was their outlandish dress. Maximillian was keen to give the men freedom to wear what they wanted, and this resulted in plumes, slashed sleeves and bright colours.
The Landsknechts, as well as other troops, made good use of the crossbow and then latterly the new arquebus black powder weapon as skirmish screens ahead of the blocks of pikemen or as tactical units in their own right. They were equally useful during sieges.
The figures in this boxed set can be used to represent the Landsknechts raised in Germany or other nations of the period.
This box set contains:
Plastic components to make 30 Landsknechts with either arquebus or crossbow.
Plastic bases.
Models supplied unassembled and unpainted