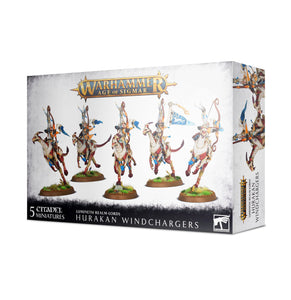 HURAKAN WINDCHARGERS
LUMINETH REALM LORDS:
Bounding across the plains on their nimble treerunner steeds, Hurakan Windchargers loose arrows with the unerring accuracy of master archers even while travelling at breakneck speeds. Preferring to fire a single killing shot over the massed arrow barrages of the Auralan Sentinels, it is said that once a Windcharger sets their eyes upon their prey there can be no escape.

As some of the finest mounted archers in the Mortal Realms, these peerless warriors are equally comfortable firing their bows at a breakneck gallop as they are in the storm of melee combat. Their treerunner steeds are so agile they race through dense terrain as if it wasn't there, making them excellent flanking cavalry.

The kit is comprised of 89 plastic components, with which you can assemble 5 Hurakan Windchargers, with options to build one as a Seneschal unit leader and one as a Standard Bearer. They are supplied with 5x Citadel 60mm x 35mm Oval Bases.