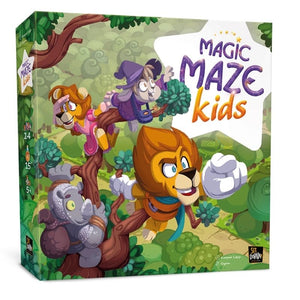 Magic Maze Kids
The King turned himself into a frog!
In an experiment gone awry, the King is now a frog and it's your job to fix him! Gather your friends; the prince, princess, knight and wizard for a magical, cooperative adventure to find potion ingredients to cure him.
Everyone controls all the heroes, but each player holds a unique direction card. Can you beat all the levels?
What's in the box?
Four double sided game boards
Six creature pawns
Four hero pawns
One cauldron
52 ingredient tokens
Four action tokens
One sand timer
26 mission cards
One time marker
One king card
One summary card
How to play:
Magic Maze Kids is a cooperative game in which you work together in order to achieve a common goal. You all win or lose together.
In Magic Maze Kids, you don't control a specific character: instead, any player can move any pawn at any time, but, you can only move them in a direction depicted on the action tile in front of you. Cooperation is key!
There are several different boards and 'modes' you would like to play and then follow the rules step by step. (it's always good to start in order) Each of the game boards add on different challenges.
Select the game board matching to the tutorial or game mode you want to play, and place it in the middle of the play area.
Assemble the cauldron
Place the ingredient tokens next to the board so they are easy to reach.
Place your action tiles infront of you with North pointing the same direction as north on the game board. Ensure that everyone's tiles are visible. You are ready to play!
Work together to complete the tasks that are in each game, and ultimately brew a potion to cure the king.
There is no communicating out loud during this game!
Bonus!
There are 4 different game modes you can play!