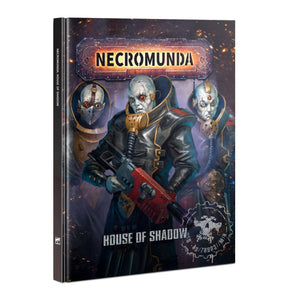 NECROMUNDA: HOUSE OF SHADOW
Unlike other Houses, that are built upon vital industries or are bound together by faith, he Delaque have no defined home and no defined industrial role within Necromundan society. If one were to ask what purpose the Delaque, one would doubtless receive myriad answers. Some believe them to be information brokers, who deal in secrets and buy and sell this vital commodity to the highest bidder. Others claim they are afforded their place because of some clandestine deal with the Helmawr line, and that they are spies for the Imperial House. Still others claim the Delaque are assassins and saboteurs without peer.

Get the ultimate guide to House Delaque. This 128-page hardback book features the definitive history of the House and rules for fielding the six different types of fighters available to House Delaque – Master of Shadow, Phantom, Nacht-Ghul, Psy-Gheist, Ghost, and Shadow. It's ideal for fans of House Delaque or anyone who wants to delve deeper into the dark side of the underhive.

Inside this book you will find:

– House Delaque History and Background: An expansive and extensive background on the origins of House Delaque and how it went on to become the most secretive clan on Necromunda.

– House Delaque Gang List: All the rules you need in order to field a Delaque Gang in games of Necromunda.

– Hangers-on and Brutes: Rules for hiring Hangers-on and Brutes for your Gang, including Delaque-specific ones and for using them in games of Necromunda.

– Hired Guns: Rules for using Bounty Hunters, House Agents, and Hive Scum.

– Strong Alliances: Rules for forming alliances with three organisations that House Delaque has connections with, including the Iron Guild, Psi-Syndica, and House Ty – the Noble House that backs the House of Shadow.

– Additional Rules: This section includes new and additional rules usable by House Delaque gangs in games of Necromunda, providing Delaque players a variety of options, including Skills, Abilities, and gang-specific terrain.

– Weapon Reference Chart: A comprehensive weapons reference chart for all weapons and wargear available to House Delaque and their Allies.

– House Delaque Gang Tactics: A D66 table of Gang Tactics for use in Scenarios.

– Dramatis Personae: Rules for hiring and using three brand-new Dramatis Personae characters in your games of Necromunda.

This is an expansion to Necromunda – you'll need a copy of the Necromunda Rulebook or the Necromunda: Dark Uprising Rulebook to use the contents of this book.
(ENGLISH)