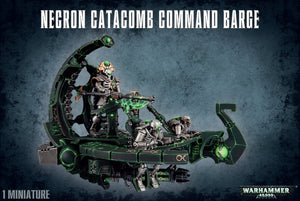 NECRON CATACOMB COMMAND BARGE/ANNIHILATION BARGE
The Command Barge is a striking and imposing model. Adorned with Necron iconography and dynastic glyphs, it makes for an impressive addition to any Necron collection. It features a scythe-like mid section, the points of which surround two Necron minions that attend the control dashboard. Above them, a skeletal Necron Lord stands defiantly behind an elegant rail, gesturing forward with his warscythe.

This multi-part plastic boxed set contains 84 components, two small flying stems, one large flying base, one 25mm round base and two Necron transfer sheets, with which to build one Necron Catacomb Command Barge or one Annihilation Barge.
This kit is supplied unpainted and requires assembly - we recommend using Citadel Plastic Glue and Citadel Paints.