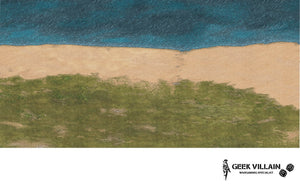 Wargaming Battle Mat

Normandy 6ft x 4ft
 Specifications:
Lightweight and compact. 
Printed in 1200dpi resolution
High quality durable fleece 
6x4 plus* - approx. 56"x76"
Professionally illustrated
Suitable for 10mm, 15mm, 20mm and 28mm tabletop miniature wargaming!
This is NOT a cloth or a paper or PVC gaming mat
*Our mats are handmade, so not every mat will be exactly the same in size, however the minimum size of every mat will always be 6ft x 4ft.
*Please note that actual product colours may vary from colours shown on your monitor
Designed by Geek Villain Ltd