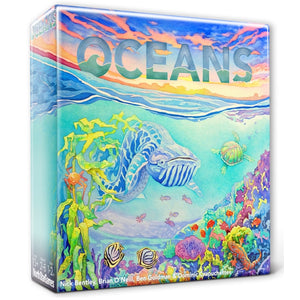 Oceans is a stand-alone in the highly acclaimed Evolution product line.
Oceans depicts the interconnected ecosystem of marine life and combines it with the powerful mysteries of the unknown.
Enter a vast, underwater cosmos, with mysteries so bizarre they hardly seem natural! Venture into the deep at your own risk!
What's in the box?
200 population tokens
24 species boards
Reef
Ocean
25 scenario cards
120 surface cards
89 deep cards
One cambrian explosion card
Four player screens
Four bonus tokens
How to play:
Your turn consists of four phases.
Playing cards: play 1 surface card during this phase if the cambrian explosion has not yet started. If it has started play 2 cards (surface and/or deep).
Feeding: choose 1 of your species to feed. It may either forage to take population from the Reef, or attack to take population from another species.
Aging: if the Cambrian Explosion has not yet started, remove 1 population from each of your species and place it behind your player screen in your score pile, or if it has started, place 2 population from each of your species into your score pile. Score all of your population if you cannot score the full amount.
Drawing cards: discard & draw back up to 6 cards.
The last round of the game is triggered immediately when every Ocean zone is completely empty of population. Place the 60 population tokens from the "reserve" zip-lock bag into the 3rd Ocean zone and continue playing as normal. The game ends when the final player in the turn order completes their turn, even if there is still population in the Reef.
The player with the highest score wins.