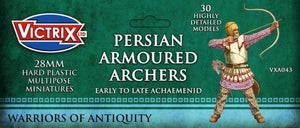 Persian Armoured Archers | VXA043
Whether you're using them as part of the Early or Late Achaemenid Empire, the Armoured Archers are an essential unit in any Persian army. Position them behind a wall of Spara or use them as skirmishers to harass the enemy, the choice is yours.
30 figure set
24 Archers
6 Command figures (including Officers, Standard Bearers and Musicians)
Multiple head, arm and weapon options
Set includes Sparas and spare arrows
Shield and quiver transfers designed by LittleBigMenStudios
Can be used in armies to fight the Greeks, Macedonians, Ancient Indians, Scythians, and themselves in numerous civil wars
28mm sized hard plastic figures, supplied unpainted.
Flags and Hard and fast rules are not included, Victrix have not yet updated their packaging to reflect this. Image for illustrative purposes only, packaging may vary