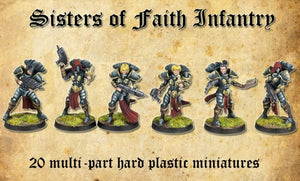 Sisters of Faith  (Kingdom of Talliarius)
 Infantry of the Sisters of Faith
To those who stand behind us, we offer protection.
To those who stand next to us, we offer respect.
To those who stand against us, they will feel no mercy.
For it is our purpose to deliver this world from evil. To chase away the illness that devours the souls and haunts the spirit. To stand next to each other as a sister. And through holy purpose, feel no fear nor pain.
This multi-part hard plastic kit contains all you need to assemble 20 Sisters of Talliarius® Infantry. The sprues include all pieces required to assemble your forces with multiple ways. The detailed components include various arm/weapon types for customization purposes and along with the 4 different bodies, various front and rear tabards, crosses, 4 different pauldron sets and multiple head variations (both helmeted and unhelmeted versions to choose from!) allows the creation of unique regiments for your disciplined Sisters of Talliarius army. Models are supplied with twenty plastic 25mm round bases. 
20 Bodies (4x5)
20 Backs (4x5)
21 Jet Packs (2x6, 3x3)
2 Pistols (1x2)
2 Plasma Rifles (1x2)
2 Heavy Plasma Rifes (1x2)
2 Metal Storms (1x2)
6 Shotguns (3x2)
2 Heavy Machine Guns (1x2)
2 Magazine Belts (1x2)
25 Scrolls (1 x5)
5 Celtic Cross (1x5)
5 Champion Swords (1x5)
5 Champions Hammers (1x5)
25 Right Arms (5x5)
30 Left Arms (6x5)
20 Open Hands (4x5)
5 CLosed Hand Grips (1x5)
5 books w/hand (4x5)
*10 hooded heads (5x2)
12 Non-Hooded Heads (6x2)
20 Pauldron Sets (5x2x2)
21 Front Tabards (7x3)
21 Rear Tabards (3x4, 3x3)
2 Machine guns w/Left Hand (1x2)
17 Machine Guns W/Right Hand (4x2, 3x3)
This product comes supplied unpainted and requires assembly (glue&paint not included). Pictures are for demonstration purposes only.