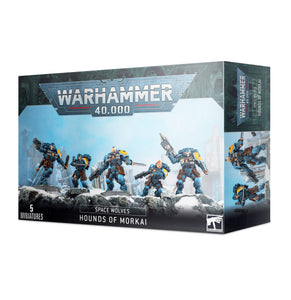 SPACE WOLVES HOUNDS OF MORKAI
Daubed beneath their sinesterly hued Phobos armour with runes of warding and abjuration, Hounds of Morkai are hunters of psykers. Sniffing them out with psycept detectors, these obsessed warriors emit strangely pitched howls. Runic circuitry augments their hunting call, disrupting their prey's powers and sowing fear before the kill.

Equipped with grapnel launchers and special issue bolt pistols with which to hunt their quarry, Hounds of Morkai are a deadly and highly manoeuvrable unit of Reivers that lend the Space Wolves a significant edge against psykers. If you're facing an enemy force with numerous and/or powerful psykers at their disposal (such as the Space Wolves' hated enemies, the Thousand Sons), never leave Fenris without at least one pack of Hounds of Morkai!

The set includes the following multipart plastic kits:

- 1x Primaris Reivers (5 miniatures, each supplied with a Citadel 32mm Round Base)
- 1x Space Wolves Primaris Upgrade Frame

This set is supplied in 135 plastic components and comes with a Space Wolves Primaris Transfer Sheet.
Make sure you pick up glue and paints, we recommend Contacta professional plastic glue