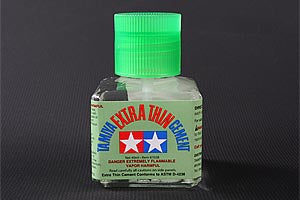 The Tamiya Extra Thin Cement has been used by hundreds of thousands of modellers worldwide for more than forty years. It is widely regarded as the best product for glueing together polystyrene plastic model kits worldwide. The tiny brush does not clog up like other brushes, which means that modellers can apply the necessary glue with pinpoint accuracy. For precise modelling work, there is no substitute.
The smallest amount of this cement is enough to stick the parts together (after they are carefully prepared) permanently. The surface of the parts required to be glued together should be finished with sandpaper or files. Before you use the glue, make sure that the parts are clean.
With the Tamiya Extra Thin Cement, your model building will reach new heights of realism - with no gaps in joins.
Specs and Features:
This cement is extremely useful when glueing plastic parts to the desired position while holding them in place together.
The thin cement flows smoothly between the gaps of the fitted parts by capillary action.
The plastic screw-on lid has an applicator brush attached.
The pointed applicator tip makes it easy to put the cement where desired.
Clear liquid.
Glass bottle.
Volume: 40ml