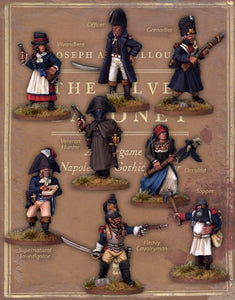 TSB003 The French Unit

To play the Silver Bayonet, you choose an Officer figure from your preferred nation, and you recruit a special unit of skilled Soldiers to take on investigations and to battle against supernatural forces.
We have put together a typical French Unit for you to use in The Silver Bayonet.
The figures represent:
Your Officer,
A Sapper,
A Heavy Cavalryman,
A Vivandière,
An Occultist,
A Grenadier,
A Supernatural Investigator,
A Veteran Hunter,
All figures are 28mm sized, made of metal and supplied unpainted.
The Silver Bayonet
A WARGAME OF NAPOLEONIC GOTHIC HORROR
As the wars of Napoleon ravage Europe, chaos and fear reign and the darkness that once clung to the shadows has been emboldened. Supernatural creatures - vampires, werewolves, ghouls, and worse take advantage of the havoc, striking out at isolated farms, villages, and even military units. Whether they are pursuing some master plan or simply revelling in their newfound freedom is unknown. Most people dismiss reports of these slaughters as the rantings of madmen or the lies of deserters, but a few know better…

The Silver Bayonet is a skirmish wargame of gothic horror set during the Napoleonic Wars. Each player forms an elite band of monster hunters drawn from the ranks of one of the great powers. Riflemen, swordsmen, and engineers fight side-by-side with mystics, occultists, and even those few supernatural creatures that can be controlled or reasoned with enough to make common cause. The game can be played solo, co-operatively, or competitively, with players progressing through a series of interlinked adventures with their soldiers gaining experience and suffering grievous wounds, and their units triumphing… or falling in the face of the shadows. It is a game of action and adventure, where musket and sabre meet tooth and claw.