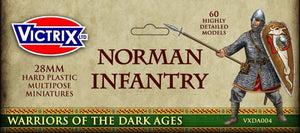 Norman Infantry | VXDA004
This exceptional 60 figure set of 28mm hard plastic Normans has superbly detailed figures and a myriad of additional parts allowing hundreds of options when building the figures. 
Whats in the pack?
60 x figures
6 x Warrior Main Frame
2 x Command Frame
14 x Body options (including armoured and unarmoured)
38 x Head options 
28mm sized plastic figures, supplied unpainted and require assembly.
Join our popular Facebook Group and find opponents for wargames in Bristol or join in the chat and share your War Gaming stories with like minded people! LINK
Flags and Hard and fast rules are not included, Victrix have not yet updated their packaging to reflect this. Image for illustrative purposes only, packaging may vary