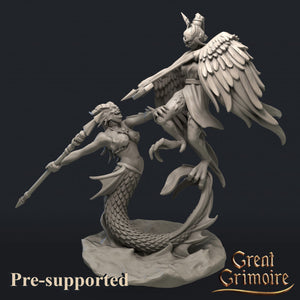 Where the sky touches the sea

The centuries of blood feud is boiling the waters of the Dark Sea. Where the sky touches the sea, the belligerent sisters are still having their eternal fight. Two of a kind, divided by bloodthirst and striving to prove their superiority - who will finally prevail? But anyway, does it really matter for the poor sailor souls enticed to their doom by these deadly sirens?

3D PRINTED RESIN MINIATURES
All miniatures are printed in Elegoo Standard Grey Resin on an Elegoo Mars 2 Mono Printer with a 0.02 layer height.
This provides a highly detailed paintable resin print
Models are all 32mm scale unless stated otherwise-if you aren't sure please ask
We are currently taking orders for these beautiful miniatures, each one 3D printed to order. Pictures are for reference only actual models will have most supports removed but will still require some clean up and assembly
Current order waiting time for one miniature is:  please allow up to 5 days
Commission Painted miniatures available 
Please contact Bristol Independent Gaming for more information or for multiple prints.