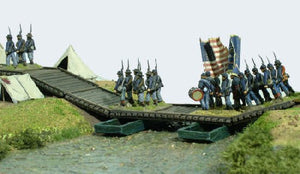 PONTOON - Wooden Pontoon Bridge
An excellent kit to represent a pontoon bridge typical of those used in all theaters of war from the 1700's up to World War 2. A single kit builds a bridge 8' long by 2" wide. Easily combined to make a longer span. Assembly required. Plastic cement not included. Reccomended for ages 14 and older.

The photo shows the kit built, painted and being used by Perry Miniatures 28mm sized ACW figures.

Figures not included and kit comes unpainted.